Ubuni Creatives Named Top Creative Agency in Kenya by The Manifest 2023
In an exciting turn of events, Ubuni Creatives has been recognized as one of the Top 40 Creative Agencies in Kenya by The Manifest, an internationally acclaimed company dedicated to connecting businesses with exceptional service providers. We are thrilled to announce that Ubuni Creatives has secured the 8th position among these outstanding creative agencies. This prestigious accolade is a testament to our unwavering commitment to creativity, innovation, and client satisfaction.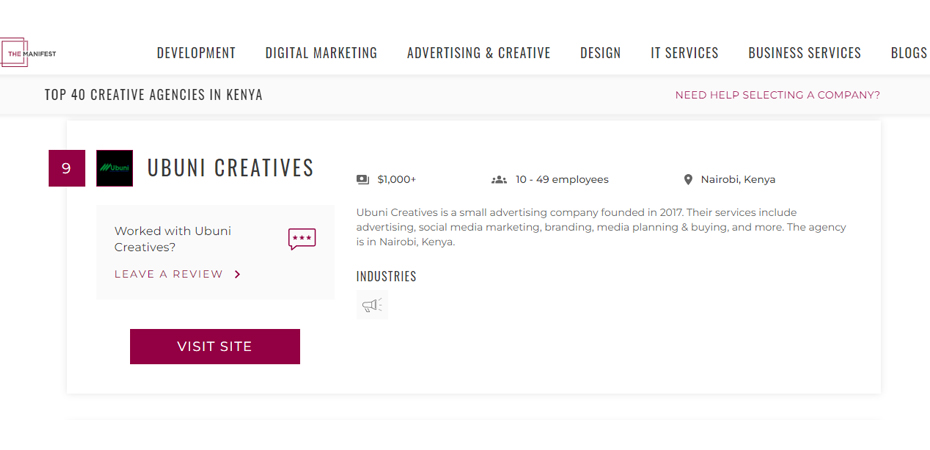 So What Keeps Us Ahead of the Rest?
Exceptional Creativity: Our team of talented and experienced professionals is known for pushing creative boundaries. We breathe life into ideas, turning them into visually stunning and engaging campaigns that leave a lasting impact.

Innovative Solutions: Ubuni Creatives is synonymous with innovation. We leverage cutting-edge technology and creative thinking to develop unique strategies tailored to your brand's needs. Our aim is not just to meet your expectations but to exceed them.

Client-Centric Approach: We understand that every client is unique, and we treat each project with the utmost care and attention. Our client-centric approach ensures that we not only meet but also exceed your expectations, delivering results that matter.

Proven Track Record: Our portfolio speaks volumes about our capabilities. We have successfully worked with a diverse range of clients, from startups to established brands, helping them achieve their creative and marketing goals.

Full-Service Creative Agency: Ubuni Creatives offers a comprehensive suite of creative services, including graphic design, web development, branding, digital marketing, and more. Partnering with us means you can access all your creative needs under one roof, saving you time and resources.
Winning More Clients with Ubuni Creatives
Our recognition as one of the Top 40 Creative Agencies in Kenya by The Manifest serves as a testament to our commitment to excellence and creativity. We are eager to leverage this achievement to bring even more value to our clients. If you're looking for a creative agency that can transform your vision into reality and drive results, look no further.
With our proven track record, creative expertise, and innovative approach, Ubuni Creatives is your partner of choice. Let us collaborate to unlock the full potential of your brand and take it to new heights.
Ubuni Creatives is honored to be among the top creative agencies in Kenya, as recognized by The Manifest. We take this accolade as an opportunity to reaffirm our commitment to delivering exceptional creativity and innovative solutions to our clients. If you're ready to elevate your brand's creative game, contact us today and discover why we are the preferred choice among businesses seeking excellence in the creative industry.